First Drive: 2023 Mazda CX-50
For the first time ever, Mazda is taking Jinba-Ittai off-road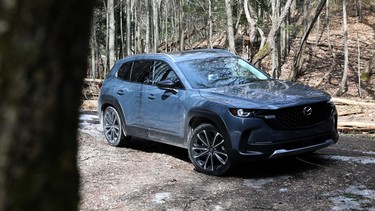 2023 Mazda CX-50 Photo by Clayton Seams
Jinba-Ittai is Mazda's current design philosophy. The Japanese phrase translates to "horse and rider" and describes Mazda's ethos that the driver and machine should feel in-touch with each other. With the 2023 Mazda CX-50, Mazda is taking this philosophy off-road for the very first time.
The CX-50 ostensibly replaces the CX-5 but the two will be sold alongside each other for the time being. The CX-50 is longer, lower, and wider than the CX-5. It measures 145 mm longer with a 115 mm longer wheelbase and it's 75 mm wider while being 62 mm lower than the CX-5. The CX-50 eschews a "fastback" roofline for a more traditional squared-off rear. The styling represents a major break from Mazda designs as of late with chunky black fender cladding, bulging simulated fender flares, and a square-jawed front-end. Mazda says the CX-50 was designed to look "tough and rugged" compared to the CX-5 which they describe as "urban and sophisticated." The thick pillars have been strengthened to hold roof-top tents and the rear doors open 90-degrees to accommodate cargo.
That's because more than any other Mazda before it, the CX-50 is aimed at outodoor and possibly off-road adventures. To this end, the CX-50 is not as hardcore as other CUVs in the segment like the Jeep Cherokee Trailhawk or the Subaru Outback Wilderness. It doesn't have any locking hubs, and it doesn't have off-road tires like those two either. But it will handle a cottage road with ease, in any weather and can take on moderate fire-road trails. It's certainly more capable off-tarmac than the CX-5. The approach and departure angles are noticeably steeper and ground clearance is also improved over the CX-5. The CX-50 has an off-road mode which holds the transmission in lower gears, raises the idle to 1,200 rpm for improved response, optimizes the traction control for increased grip on loose surfaces, and gives the front and rear axles a nearly equal torque split. Off road mode is tailored for use in low or high speed situations. But the off-road prowess has not come at the expense of on-road composure.