First Drive: 2023 Mercedes-AMG EQE
Powerful, poised and loaded with instant-on torque, the new AMG EQE is a winner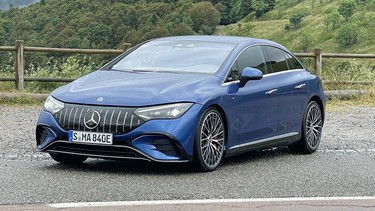 2023 Mercedes-AMG EQE 53 Photo by Graeme Fletcher
Following on from the EQS road-rocket comes the next AMG all-electric ride. The EQE is an E-Class-sized sedan that hides some welcome ability beneath its shapely sheet metal. In other parts of the world, the newbie will be called the AMG EQE 53 4Matic+; in Canada it will simply be known as the AMG EQE 4Matic+, as we will not get the milder EQE 43.
At the heart of the EQE is a lithium-ion battery with 90.6 kilowatt/hours of usable power. How it dishes out the power depends on the drive mode selected. In Sport and Sport+ modes, the focus is on outright performance; dial it back to Comfort and driving range is given priority. Using a 170-kilowatt DC fast charger pumps 180 kilometres of range into the battery in 15 minutes. It also works with an 11 kW or optional 22 kW Level 2 charger. At this point the driving range for Canada has yet to be announced.
The battery supplies two electric motors. The pair combine to twist out 616 horsepower and 701 pound-feet of torque. The instant-on nature of the torque makes this thing incredibly fast off the line and on up to impounding speeds. The twist is found when Race Start is engaged. Now the EQE gets an extra 61 hp and 37 lb-ft of torque, for a total of 677 hp and 738 lb-ft. This cuts the run to 100 kilometres an hour to just 3.3 seconds and it ups the top speed by 20 km/h to 240 km/h.
Regenerative braking is offered in three levels, each being accessed through the steering wheel-mounted paddle shifters. In its mildest form it's benign. Dial it up to maximum and you have a one-pedal drive. It's the best for all situations except highway driving. In the city and on a twisty road the accelerator pedal controlled things perfectly, and without the need to reach for the brake pedal even when heading into a hairpin with a tad too much speed. Relaxing the regen on the highway brought a smoother drive.
AMG earned its reputation for the outright performance of its cars and a delightful exhaust note it could call its own. The burbling blat from a honking twin-turbo V8 was unmistakable and intoxicating. The EQE comes with two sound signatures. The Authentic and Performance programs can then be set for Balanced, Sport or Powerful — think muted, loud and louder. Sadly, the experience is not a melodious one and needs a rethink. In fairness, AMG are not alone here, as all EV manufacturers are struggling to find the right EV sound.