First Look: 2022 Kia EV6
Despite some mystery surrounding the specifics of its battery, Kia's new EV6 is very enticing indeed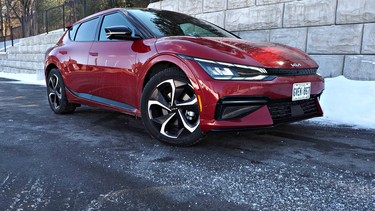 2022 Kia EV6 Photo by Chris Balcerak
It's not often that we lowly autojournalists get to write a road test and solve a mystery at the same time. In fact, it almost never happens. Usually, we're handed a spec sheet, are spoon-fed information — in the hopes, of course, that we'll just regurgitate the company line verbatim — and then we fire off an evaluation.
Occasionally however, we're left with an actual mystery. Some key data is missing, some performance metric is obviously in error, or, in that rarest of circumstances, there's a full-blown where's-NCIS-when-you-need-them whodunnit to be investigated.
Meanwhile, when Ford jumped into the EV fray with its F-150 Lightning, it simply would not give us any information detailing how big its batteries were. Oh, it told us everything else — range, horsepower, and torque — but not a word about what powered it all. In the gas-fueled world, that'd be equivalent to giving us every performance metric in the book, but refusing to release whether it was all the result of a turbocharged six, big-block V8, or thundering diesel. It was strange enough that I wrote an entire column on the mystery.
This time, the mystery surrounds Kia Canada's' proclamation that its new — and entirely estimable — EV6 has a bigger battery than its cross-town cousin, Hyundai's Ioniq 5. Essentially, it claims that its 77.4-kilowatt-hour battery is bigger than whatever is powering the Ioniq 5's.
Besides — and, in fairness, maybe I should have lead with this tidbit — Hyundai's own corporate website, right there in the specifications tab, claims that its Ioniq 5 boasts an identical 77.4 kWh and, according to the Korea Times, both batteries are built by the same manufacturer, SK International.