First Look: 2023 Acura Integra
The production 2023 Integra will start at mid-$30,000 when it goes on sale in Canada this spring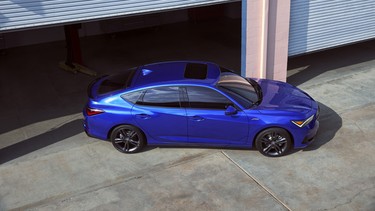 The production 2023 Acura Integra Photo by Acura Canada
Acura has unveiled the production version of the 2023 Integra, which it calls the "premium performance gateway" for a new generation of enthusiasts.
It'll start in the mid-$30,000s when it goes on sale in Canada this spring, and, yes, it will come with a six-speed manual transmission, although you'll need to move up to the top A-Spec models if you want to row your own gears. For that matter, it'll be the only transmission offered with gears, as the standard unit is a CVT.
In all models, drivers can select comfort, normal, or sport settings, while the top-line A-Spec Elite has an "individual" mode to customize throttle response and steering feel, and also transmission mapping if it's on a CVT. That Elite trim also includes an adaptive damping system, allowing the driver to also adjust the suspension firmness.