First Look: 2023 Maserati Grecale
The 2023 Maserati Grecale boasts Italian good looks and plenty of power to burn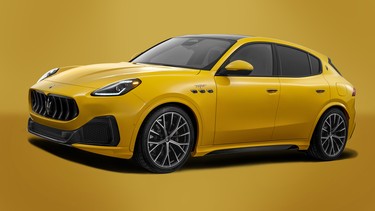 The 2023 Maserati Grecale Trofeo Photo by Maserati
Maserati's return to North America has not been the resounding success Stellantis was hoping for. Oh, the products have been stellar: the Ghibli is an excellent entry-level luxury sedan with panache and passion; while the Levante is a pretty stylish and sporty SUV. Only the top-of-the-line Quattroporte is a little out of its depth, the result of age and a European edge too focused for a North American clientele.
The problem is that Ghibli and Quattroporte are four-door sedans, a dying segment even amongst the über-wealthy. And, while the Levante is a sport-brute, it competes in the mid-sized segment already thoroughly dominated by Porsche's Cayenne and BMW's X5. Maserati probably expected a more welcome reception on its arrival to our shores, which is probably why it didn't come out of the gate with all guns blazing.
Aimed right at the heart of the luxury market, the Grecale — which, like all Maseratis, is named after a wind, this one that blows northeasterly through the Mediterranean — is a compact SUV meant to champion the Italian brand against the like of BMW's X3, the Porsche Macan, and Mercedes' GLC.
It comes to the fight well-armed. Both base GT and mid-level Modena are powered by a 2.0-litre turbocharged mild-hybrid four. In this case, however, the 48-volt belt-starter-generator is used to run an electric supercharger — an "e-booster," in Maserati parlance — for quicker throttle response at low revs. In the base GT, this totals in at 296 horsepower, while the Modena turns up the boost to 325 hp. Both, however, produce as much as 332 pound-feet of torque at a low, low 2,000 rpm, promising grunty performance for such a small engine.
At the other end of the spectrum likes the Trofeo, powered by a 523-hp turbocharged six. Surprisingly, this is not just the Ferrari-built Alfa Romeo 2.9-litre twin turbocharged V6 transplanted from the Stelvio Quadrifoglio, but a slightly tamer rendition of the 3.0-litre Nettuno V6 that powers that MC20 supercar. Replete with the same Maserati Twin Combustion (MTC) technology sourced directly from Formula One, It's an all-Maserati design built in the company's Termoli plant.