First Look: 2023 Mercedes-Benz EQS SUV
Stuttgart's electrified take on luxury continues apace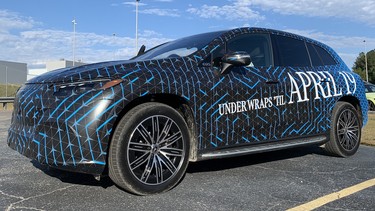 "This is a very important model for Mercedes in North America," said the Benz engineer in a deep German accent as he ran his hand over the fender of a camouflaged prototype.
In typical European style, this is something of an understatement. The market on our side of the pond has shifted, permanently, to a strong preference for SUVs, while the clamour from certain corners of the moneyed set for all things electric is growing by the minute.
Mercedes is keeping major details of the EQS SUV under wraps until its full launch next month, but there were a few particulars on which Wundrak chose to elaborate. The SUV will share its wheelbase with the EQS sedan, thanks to deploying the same 'skateboard' electric platform. The SUV is wider than the sedan, contributing to more interior elbow room, and it is obviously taller with more ground clearance. The image of a prototype parked next to a knackered yellow GLE test mule, whose stock height is around 69 inches, gives us a clue.
Electric motors live on the front and rear axles, providing all-wheel drive and the ability to leap from rest like a frightened cat when the driver's right foot pins the accelerator into the lush thick carpet. The subject of power levels and battery size were verboten but it doesn't take a team of skilled ingenieurinnen to safely wager the EQS SUV option sheet will look much like what's offered in the EQS sedan.
Wundrak did allow a raised eyebrow when it was suggested this prototype was a top-shelf trim, suggesting it could mirror the EQS 580 with 516 horsepower. The EQS 450+ makes 329 ponies, and you can bet there will eventually be an AMG variant packing the better part of 700 all-electric horses.