First Look: 2023 Volkswagen ID. Buzz
The long-awaited all-electric van – which has finally been revealed, for real this time – deliberately evokes the Microbus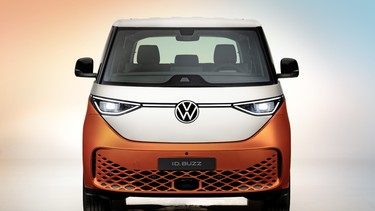 Photo by VW
Break out the headbands and replica Woodstock tickets, because Volkswagen has finally launched a modern take on the classic Microbus. Called the "ID. Buzz," it is an all-electric van whose design hearkens back to that instantly recognizable design while plowing ahead with notions of modern mobility.
And here's the good news: it will be available in North America! Just not yet, and not exactly like this model. Allow us to explain.
VW is remaining tight-lipped for now about the driving range of this all-electric ID. Buzz, but it's worth noting corporate cousin SEAT markets an Enyaq iV crossover which claims 331 miles (529 km) between charges of its 77-kWh battery. Like the ID. Buzz, that vehicle is also built on the company's MEB EV platform, and offers a single 201-hp electric motor as one of its drivetrain options.
But few customers will be buying this rig solely for its range and power numbers. Rather, they're far more likely to be smitten by its styling, which evokes the original Microbus without playing too much of a retro tune. "The ID. Buzz shows that it is successfully transferring the genes and stylistic elements of that iconic vehicle into the digital era," explained Jozef Kabaň, Head of Volkswagen Design. Extremely short overhangs permit its wheels to be pushed out to the corners, maximizing interior space while keeping the vehicle's footprint in check.