Ford trademarks the name 'Thunder' on its three pickup trucks
But we're expecting it'll be an appearance package only, not a power upgrade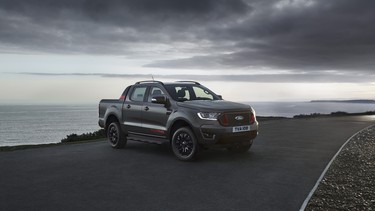 2021 Ford Ranger Thunder Photo by Ford of Europe
Ford already has the Lightning, but what about the Thunder? According to trademark applications filed in both Canada and the U.S., in late June the automaker sought to register the names F-150 Thunder, Ranger Thunder, and Maverick Thunder.
It's important to note that simply applying for a trademark doesn't necessarily mean you're going to build something with that name. Automakers – and companies in just about every industry for that matter – often trademark names that they don't necessarily plan to use. By registering the name, it prevents competitors from using it.
For one thing, the Ranger Raptor is on its way; while a fire-breathing Maverick doesn't really seem all that likely. For another, Ford offered a limited-edition Ranger Thunder to European buyers for 2021, as shown in the photo at top, so it's already been done. It was based on the Ranger sold there, which differed from ours, but it wasn't a power upgrade.