Forget 2 dollars a litre: Metro Vancouver gas prices are jumping beyond
It's a perplexing degree of sticker shock given that Canada barely imports any petroleum from Russia.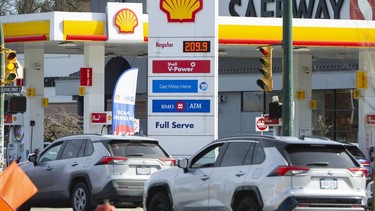 The Shell gas station at Oak St. and King Edward in Vancouver was selling gas for $2.09/litre on Sunday. Photo by Arlen Redekop /PNG
Drivers in Metro Vancouver didn't have long to fret over $2-a-litre gas before they were seeing still more record highs.
Many gas stations across Vancouver, Richmond, Surrey, Burnaby and beyond were tipping $2.10 a litre Sunday, with the cheapest stations charging about $2 and a few even soaring upwards of $2.20.
Antweiler pointed to the price of oil benchmarks: Brent crude, which topped US$112 per barrel, and West Texas Intermediate, which traded at about US$116 early Sunday.
"Right now, the first B.C. carbon tax is 10 cents per litre of gasoline," said Canadian Taxpayers Federation spokesperson Kris Sims.