Hatch Comparison: 2022 Volkswagen GTI Performance vs Mazda3 Sport GT Turbo
The king of hot hatches faces down a new challenger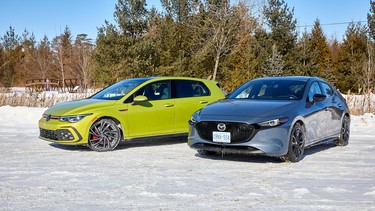 2022 Volkswagen GTI Performance vs Mazda3 Sport GT Turbo Photo by Elliot Alder
Brian Harper: Given that our streets are being overrun by crossovers of all size and types, it's heartening to see that not every automaker has given up on cars. More specific to our comparison, the compact hatchback segment has historically been very popular with Canadian consumers, if less so south of the border. Better still, today we're talking about performance-oriented hot hatches — a subsegment near and dear to my heart — starting with the most iconic model of them all, Volkswagen's Golf GTI.  
I've been a huge fan of the GTI since the first version — the Rabbit GTI — was shipped to North America for the 1983 model year. Small, lightweight, and nimble, it was a refreshing counterpoint to what Detroit was passing off as performance cars at the time.  
Elliot Alder: Perhaps more than, even. 
The vehicles before us are top-trim models. The best of three grades, the Volkswagen GTI Performance starts from 38,995. For that $7,500 over the base GTI, shoppers get bigger brakes behind bigger 19" wheels, impressively adjustable dynamic chassis control, dynamic headlights with cornering lamps, and effective modern driver assists including lane-keeping and adaptive cruise that holds speed even after gear changes. Inside, the Performance gains a HUD, premium Harman Kardon audio, wireless charging and smartphone projection, the 8" infotainment screen grows to 10", and assorted comforts including three-zone climate and heated rear seats keep occupants comfortable. A snappy 7-speed automatic is also available, but why would you? 
For $3,700 less than the GTI Performance, the $35,300 top-trim Mazda3 Sport GT Turbo brings a surprisingly plush driving experience and almost 20 per cent more torque. Feed the GT Turbo some 93-octane fuel, and you're good for 250 horsepower and a whopping 320 lb-ft, all routed through two more wheels than the chirpy GTI. Unfortunately, however, Mazda will only sell you a Turbo with a 6-speed auto.