How a new Jeep factory turned into a civil rights fight
Facility brought thousands of jobs to Detroit, but at the cost of environmental impact on Black neighbourhoods, say groups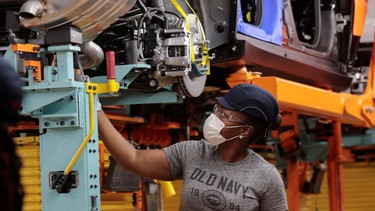 A Stellantis assembly worker works on assembling the 2021 Jeep Grand Cherokee L at the Detroit Assembly Complex in the Mack Plant in Detroit, Michigan, U.S., June 10, 2021. Photo by Rebecca Cook /Reuters
When plans for a new Jeep factory on Detroit's east side were announced in 2019 — the city's first assembly plant in nearly 30 years — it was celebrated as an economic boon for the city, bringing 5,000 jobs and an influx of investment to long-neglected neighborhoods. Six years after filing for bankruptcy, the city was "turning a corner" and becoming more business-friendly, The Detroit News declared.
To bring all that economic development to the area, the Department of Environment, Great Lakes, and Energy (EGLE), Michigan's environmental regulator, agreed to a tradeoff: Fiat Chrysler Automobiles NV — now Stellantis NV, after a merger — would reduce emissions at another factory seven miles north, in order to increase emissions around the new Mack Avenue Jeep plant. In effect, the company was shifting pollution from a neighborhood with a substantial White population to one that's 97 per cent Black and sits in a county with some of the highest asthma rates in the country.
"We want jobs, but we want to understand the impact — socially, economically, environmentally — of what those jobs bring," said Jerry King, who acted as a neighborhood representative in negotiations between city officials and Fiat Chrysler to bring the plant to the area. "In a community that's already heavily industrialized with a high concentration of asthma and hospitalization from asthma in adults and children, is that really the better thing?"
The paint shop leak renewed scrutiny of the plant and amplified residents' protests that their health concerns were being ignored. But it's the emissions offset deal — and the alleged racial discrimination — that is at the heart of their complaint to the EPA.