Is Mazda working on a two-stroke internal combustion engine?
A new patent filing suggests the Skyactiv company has is pursuing a supercharged ICE, perhaps as a range extender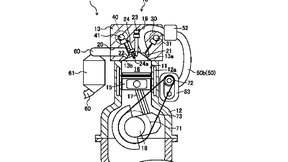 A Mazda patent for a supercharged two-stroke internal-combustion engine Photo by U.S. Patent and Trademark Office
Considering that internal combustion is supposed to be yesterday's news, there's been quite the spate of development in engines that go boom lately. Just last Friday, I wrote about the Astron Aerospace Omega 1 that combined internal combustion with a turbine's rotary design to produce an ICE engine that spun to 25,000 rpm and pumped out 160 horsepower despite weighing just 35 pounds.
Now comes the revelation of a patent by Mazda for a supercharged two-stroke engine, via The Drive. Now, to most of us, two-strokes power lawnmowers, weed-whackers and dirt bikes. No major automaker has produced a two-stroke automobile since Saab dropped its Sonett micro sportscar.
On the other hand, this is a two-stroke far removed from those basic ring-a-dings. For one thing, it has intake and exhaust valves rather than "ports" carved out of the cylinder wall. For another, it's supercharged, which helps in the cylinder "scavenging," always an issue with two-stroke designs.
Mazda has a history of working hydrogen into internal combustion, having already announced that it is a developing a hydrogen-fueled rotary-engined "range extender" for its MX-30 electric vehicle. Mazda has bucked EV norms by imbuing the MX-30 with just 161 kilometres of range, so it needs a range extender of some sort, and a hydrogen-fueled rotary would solve both the problem of needing a compact engine to fit into the smallish MX while maintaining its zero-emissions protocol.
As much as the naysayers claim that ICE is dead and hydrogen is a non-starter, it seems like there's a lot of research into the technology that Lord Elon claims is only for fools.