Long-term test update: 2022 Mitsubishi Mirage vs the Used Car Market
Should you buy the most affordable new car in Canada or turn to a used vehicle?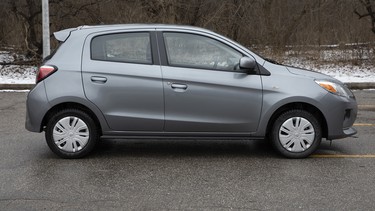 Mitsubishi Mirage Long Term test Photo by Clayton Seams
Normally we like to compare our long-term test cars to their competitors over the course of our time with them. But in the case of the Mitsubishi Mirage, that proved to be somewhat tricky. With the Micra, Fiesta, Fit, and Yaris all gone the way of the dodo, it left just two players left in the ultra low cost field: The Kia Rio and the Chevrolet Spark.  Chevy announced that 2022 is the final year for the Spark in Canada and as such we were not able to get ahold of one for the test. The Kia Rio is a fair comparison but once again we could not source one for our test. What then should we compare the little Mirage against? This time we're going to compare the Mitsubishi Mirage against something that many shoppers have likely considered before us: used cars.
Conventional wisdom regarding the purchase of cars for daily transport has always been to buy slightly used after someone else has taken the initial depreciation hit. But in these "unprecedented times," used cars can sell for more than new models. Why is this and is buying slightly used still your best bet? We take a look.
Our traditional go-to shopping advice has been that for the same $15-20,000 you could afford a slightly used car that's 3-5 years old for the same money and go up a class or two to a midsize from a subcompact. It also used to be true that you could buy that subcompact for a discount used at around $10,000. But a scan of Ontario Kijiji shows that not to be the case at all.
That said, the Mirage bests them in fuel economy. For example the 2019 Civic (with 1.5L and automatic) is rated at 6.2 L/100 km highway vs the 5-speed Mirage at 5.8 L/100 km highway. Compared to these other offerings the Mirage is overall a less refined car, but price is not the only thing to consider.
Inventory (or notably the lack of inventory) is one of the reasons that used car prices have jumped so heartily. A trip to most dealerships will show that stock is very low and most showrooms are full of used cars, not new ones. Most dealers are happy to order a car for you but the wait for some models can be over a year long.