Lotus' Eletre 'hyper-SUV' does 100 km/h under 3.0 seconds
The British marque says the Chinese-built sport-utility may have 600 km of battery range, and boast 600 horsepower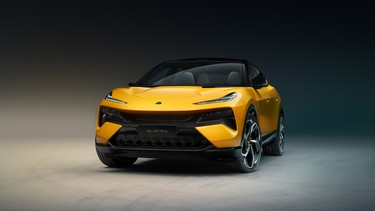 The 2023 Lotus Eletre SUV EV Photo by Lotus
Making a multi-lane change, British-based sports-car marque Lotus in late March pulled the covers off its debut sport-utility vehicle offering, the battery-powered "Eletre."
Lotus ambitiously calls it an "all-electric hyper-SUV," describing it as "bold, progressive and exotic, with iconic sports car DNA evolved for the next generation of Lotus customers" in its press release. (I'll give its marketing team points for swinging for the fences on this one.)
The brand claims the Eletre will do the rare flash from zero to 100 km/h in under three seconds, which if true, puts this SUV in Eletre—err, elite company.
The low-slung sport-ute has a height of 1,630 mm; length of 5,103 mm; width of 2,231 mm; and a 3019-mm wheelbase.
Styling-wise, the Eletre has a sort of strong character, while also being undeniably svelte. With a depth of design underscored by sharp character lines, razor-thin head- and taillights, and pronounced curves, it blends an aggressive look with modern elegance. The steeply raked windshield should keep wind resistance down as it flows over the rear spoiler.