Lugnutz serves Calgary DIY auto enthusiasts who are crazy about their cars
Garage enables condo-dwellers to wrench on their own cars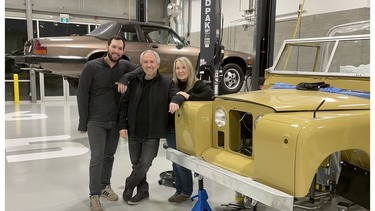 Jean-Pierre Pera, George Curnew and Brenda Rose at their new Lugnutz DIY automotive repair facility. Photo by Courtesy, Lugnutz /Postmedia Network
Besides getting rid of what were once treasures, downsizing also often means changes to lifestyle. Brenda Rose and her husband, George, have a passion for working on their cars, so moving into a condo with no garage meant that hobby had to be put on hold.
Talking with automotive enthusiasts they found that many were in the same boat, wanting to do tinkering but lacking enough space to be comfortable enjoying it.
Each bay has a 10-drawer rolling tool box filled with mechanic-grade SAE and metric tools, all that are required for most repair and maintenance jobs. Additional air tools, a high-end Autel OBDII diagnostic reader, precision digital torque wrenches and all manner of other specialty tools are available for use at no additional cost.
Whether the need is just to change back to summer tires or hoist out an engine to replace a transmission, Lugnutz has the clean-as-a-whistle space and new tools to do the job.