Maserati gunning for Tesla's EV speed crown with 1200-hp GranTurismo
The Plaid-shredding coupe kicks off Maserati's plans to offer EV variants of its range by 2025, and drop gas altogether 2030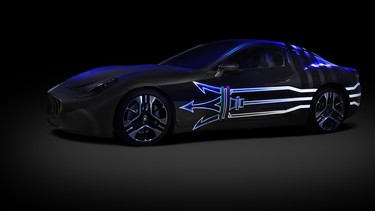 The 2025 Maserati Folgore GranTurismo Photo by Maserati
In a wide-ranging presentation that saw CEO Davide Grasso claim that Maserati will be the first top-level luxury automaker to offer a fully-electric version of every one of its products by 2025; and discontinue sales of internal-combustion engines completely by 2030, it was revealed the company's new direction is taking a decidedly Tesla-challenging turn with the introduction of the GranTurismo Folgore.
Folgore — "thunderbolt" in Italian — is Maserati's branding for its upcoming BEV lineup and, while the first product from that range will be the battery-powered version of the upcoming Grecale compact luxury-ute, all eyes are truly on the GranTurismo coupe, also available in 2023.
That said, all the current redesigns will feature ICE offerings, many based on the "Nettuno" turbocharged V6 that powers the MC20 supercar. It is worth noting that, according to Grasso, both ICE and EV versions will be based on the same platform. Traditionally, maximizing EV performance has required a unique "skateboard" chassis architecture not easily adapted to ICE propulsion. Maserati says it has found a way to build both powertrains into the same platform without compromise, but hasn't specified how.