Merch Madness: The weirdest official car swag for sale in 2022
You gotta help us out—we can't decide which we want more, the Bugatti pool table or the Maybach horse saddle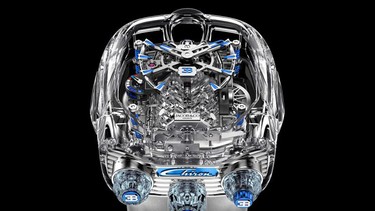 The Bugatti Chiron Blue Sapphire Crystal timepiece, from Jacob & Co. Photo by Jacob & Co.
If you didn't know it, there's big money to be made in selling luxury vehicles. The profit margins on supercars is not-small, as their seven-figure price tags might suggest, and their buyers typically don't cheap out on the options, either.
Those buyers are also sometimes inclined to purchase matching merchandise to complement their cars. Fitted luggage, branded clothing, all of the typical automotive accessories you might expect can usually be found in most premium carmaker's stores. But sometimes they get a little weird, and out there, too.
That's actually one of the less-weird items we found for sale via some high-end automakers' online accessories catalogs.
If you've ever wondered what a Lamborghini smells like, we've got an answer for you: "a citrus opening of grapefruit and bitter orange that turns into fresh and lively notes when it reaches the heart of vetiver and bergamot, finishing in an enveloping breath of cedar and sandalwood." You were probably going to say something silly like gasoline and alcantara, weren't you?