Millennial Mom's Review: 2022 Kia Carnival is the 'Encanto' of minivans
We don't talk about Bruno, but we do talk about this affordable and modern minivan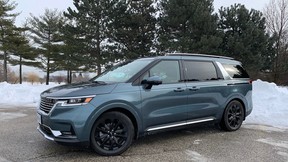 2022 Kia Carnival Photo by Renita Naraine
Spoiler alert! I can't stop talking about Encanto ! And, I'm going to give away the ending at some point in this review; you've been warned!
While driving the 2022 Kia Carnival , I realized how much this minivan reminds me of the movie, the characters, and the songs (that are played on every drive, through the Spotify app on Apple CarPlay, even when the kids aren't in the car). 
Like so many characters in the movie, the Carnival has very specific strengths and weaknesses, and though it's in a small segment, it's under a lot of pressure to be the best. All that said, the movie reminded me, "The miracle is not some magic that you've got, the miracle is you."
Mirabel lives among her magical family — her sister Luisa is super strong, her cousin Camilo can shape-shift, and her mom "can heal you with a meal," to name a few special gifts. Their lives revolve around helping the people in their town. However, Mirabel is consumed with her inability to make her family, especially her Abuela, proud. In the end, she doesn't need a gift to help bring everyone together. In fact, when everyone's powers get stripped away, they lean on the (giftless) people of the town, who help them manually rebuild their beloved home, Casita. 
Now, many advancements to cars come with great research and demand (for example, back-up cameras are efficient and safe). But do we really need all the luxuries of modern vehicles?
Here at Driving , we may not always test the top trim, but we do tend to test the latest model year, and base trim or not, it's generally an upgrade from the previous year or generation. In turn, when something like the Carnival comes along, it's quickly compared to the likes of the hybrid Sienna, the luxurious Pacifica, and the well-known Odyssey, or even the retired Kia Sedona. We tend to forget the main purpose of a minivan: to haul families, regardless of the upgrades.
We recently compared the Carnival to the Toyota Sienna , and well, let's just say the Carnival is under a lot of pressure in this segment. 
The FWD Carnival may not have the fuel efficiency of the Sienna (combined 10.6 L/100 km vs. 6.5 L/100 km), but keep in mind that the starting price of the base Sienna is still roughly $6,000 more than the Carnival's starting price of $34,795. Depending on the lifespan of your vehicle, the Carnival could be more cost-efficient in the end.