Millennial Mom's Review: 2022 Kia Telluride
The eight-seater three-row SUV is just about as good as it gets, without being a minivan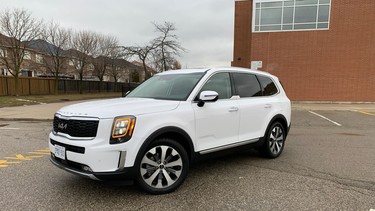 2022 Kia Telluride SX Photo by Renita Naraine
You know that satisfied feeling when you've finished a 1,000-piece puzzle (or a really difficult 48-piece lenticular puzzle)?
Well, I enjoyed the 2022 Kia Telluride, and it reminded me of puzzles. There are a bunch of different features and options that fit together to make it almost as satisfying as the end result of a puzzle, almost.
I often compare three-row SUVs to minivans, and if the minivan is the completed puzzle, the Telluride is the same puzzle, missing two pieces (in this case, cargo space and sliding doors). When it comes to the actual puzzle, you've likely searched everywhere for those pieces (under the couch, in the empty puzzle box, under your butt), but it's gone.
This tested Telluride had a second-row bench seat, as opposed to the usual testers with two captain's chairs. From the average car tester's standpoint, I can see how the leather captain's chairs would be more appealing — it's a bit more luxurious than a bench seat.
However, I prefer the bench seat in a vehicle (long story short: all of my kids like to be in the second row and no one wants to be alone in the third row, yet). A mid-size two-row SUV doesn't usually comfortably fit three car seats side-by-side, but this bigger three-row does.
As someone on the shorter end of the spectrum, it's not always easy to get comfortable in bigger vehicles, but this driver's seat is easily adjusted and comfy in all the right ways. The Telluride is a fairly smooth and quiet ride. The more time I spent in it, the more I loved it. I found myself looking for reasons to get out of the house.
Fortunately, I found a reason.
If you're a parent, then I can almost guarantee that at some point, you've done something outrageously ridiculous to please a child, or at the very least, to avoid a meltdown that would otherwise occur if said child wasn't pleased. This time, it was in search of a very specific puzzle.
And now you're probably thinking, "Wow, you have nothing better to do," or maybe you're wondering, "Are you crazy, with these gas prices?!" 
And both thoughts would be justified; this isn't even a hybrid. The average fuel consumption for this three-row SUV is pretty steep — it guzzles an average of 11.3 L/100 km, 12.7 city, 9.7 highway — in other words, at $1.40 at the gas station, a full tank of fuel is almost $100.