Millennial Mom's Review: 2022 Land Rover Defender 110
What does the 2022 Land Rover Defender 110 have in common with the NBA's Toronto Raptors?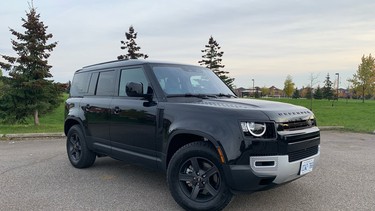 2022 Land Rover Defender 110 Photo by Renita Naraine
The 2022 Land Rover Defender 110 made me think of our beloved Toronto Raptors. I love the Raptors, but it's taken them quite a while to put a good team together; arguably, they're still trying to do that. 
Even after losing DeMar DeRozan, gaining Kawhi Leonard, winning the championship in 2019, losing Norman Powell and KYLE LOWRY, and finally rebuilding from the bottom up, they've still got a long way to go. And much like the Raptors (Raps fans, please don't @ me), the Defender has a few kinks. 
The Defender 110 looks, and is bulky. When I think big and bulky, I think of Dwight Howard. He is not, and never has been, a part of our franchise, but his broad shoulders are pretty similar to the bulkiness of the Defender. However, since we're talking about the Raptors, let's throw this comparison to the rookie, 20-year-old Scottie Barnes. He's quickly making a name for himself in Toronto and he's a great defensive player, as Kevin Durant recently pointed out. 
It has a standard ground clearance of 218 mm, which I'm sure is amazing while off-roading, but it's not the most kid-friendly. And speaking of kids, all three of my car seats fit into this five-seater. There's an optional third row, but I prefer more cargo space, at any given time. It's got more than enough room for a stroller and a shopping spree (at the grocery store). The swinging door that provides access to the trunk is heavy and if you've backed into a mall parking lot that's facing another big vehicle, well, that's a screen that you won't likely be able to get around.