Millennial Mom's Review: 2022 Volkswagen Atlas
This spacious family-hauler meets the expectations set by its lofty name with a very smooth drive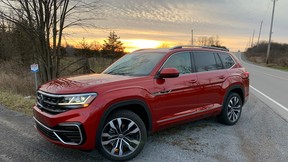 2022 Volkswagen Atlas Execline Photo by Renita Naraine
Can you imagine being tasked with the job of naming a car? 
There are some names that fall in line with some variation of letters and numbers (RX 350, XC60, QX60). Then, there are some lucky folk who, I can only assume, have creative control to have fun (Carnival, Fiesta, or Pilot and Passport). And then there are the cars with names inspired by a place (Tahoe, Malibu, Santa Fe). 
The options are limitless, and yet some choose to go with names that are difficult to pronounce, such as Taos (which apparently rhymes with house), while others get laughably direct, like the Ferrari Superfast, which is a little too literal. 
This 2022 VW Atlas is your average family hauler — a six-seat, three-row SUV. It's seen above in the top Execline trim, and covered in Aurora Red Chroma paint with the optional captain's chairs included at an extra fee of $700, it rings in at a total of $57,395 (before freight and taxes). Without the captain's chairs, a second-row bench seat makes this SUV a seven-seater — and $700 cheaper.
It quickly grew on me. It's simple, the heated (and ventilated) seats are really comfy, and the drive is smooth. All that being said, it may not be worth almost $60,000, which is a huge bump up in price from the base trim at $40,595. Not to mention, it's got a pretty steep fuel consumption rating of 12.7 L/100 km. 
It's an interesting choice to equip a three-row SUV with only four passenger seats in the back (2+2+2). It's either completely genius or completely inadequate. 
I often consider a three-row SUV to be a great option for smaller families who occasionally need access to a third row, whereas a bigger family might opt for a minivan. Having three kids, this vehicle only left me with one extra seat, and though it's a very spacious one, I'd prefer a second-row bench that adds an extra seat. On the flip side, a family with one or two children would have the utmost space for a couple extra passengers. 
Cargo space is limited, which is to be expected with all seats up (583L). For some added capacity, the second and third rows can be easily folded down to access 2,741 litres, or 1,572 litres with just the third row down.
An atlas is a book of maps or charts, hence, it would make the most sense to market this vehicle to adventure-seekers and travellers. And quite frankly, if travelling with kids isn't adventure-seeking enough for you, then you're doing it wrong (or very right; teach me your ways!). 
I had the chance to spend a fair bit of time in the Atlas, driving it from Prince Edward County to Mississauga, with no help from the car's navigation. Now, correct me if I'm wrong, but don't you think a car named the Atlas should strive to have the most amazing navigation system? I never managed to find my home, nor any of my other destinations, using the car's navigation. For argument's sake, that possibly solved with a simple software update, but I'll never know.