Ministry of Interior Affairs: 2023 Cadillac Lyriq
A look inside Cadillac's first dedicated EV reveals old, new, and unexpected blue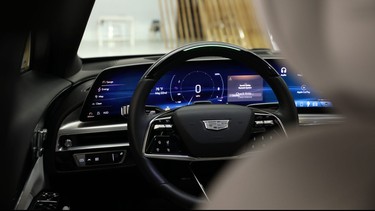 2023 Cadillac Lyriq Photo by Clayton Seams
This is a fascinating time to be an observer in the automotive industry.
The proliferation of EVs being designed on dedicated platforms has afforded automotive designers the chance to ask questions they never could before. With no engine or transmission channel to deal with, do buyers want more storage space or more legroom? What can you do with an interior floor that's completely flat? How does the driving experience change when you're rolling around in what's essentially a very large personal electronic device?
But here at the Ministry of Interior Affairs, it's the interior details of new vehicles that we delve into in extreme detail, which is why we visited the Cadillac Live studio to see the pre-production version of the Lyriq for ourselves.
Right from first approach, the Lyriq feels different from other Cadillac vehicles. Rather than using typical mechanical door handles, Cadillac has opted for electronic door operation. A push of a button nudges the Lyriq's door ajar, while a rubber handle built into the side of the door provides a grip position for opening it the rest of the way. From the inside, an occupant lifts a lever to exit, which is built into the door armrest.
From the inside, a single panel, 33-inch diagonal advanced LED screen, which is partially touch-operated, is the first thing that grabs attention. The high-resolution surface is curved toward the driver and can display one billion different colours to create rich graphics. Underneath this screen, Cadillac's traditional button layout is used for HVAC controls.
As is the case for most dedicated EVs, the Lyriq's battery resides below the interior floor, which can be made entirely flat as a result. Rather than provide open space as many other brands have opted to do, Cadillac's design team chose to position a storage area between the front seats, incorporating a USB-C port and finished in leather using a secondary interior colour. Here, the panels are lined with juniper blue leather to set off dramatically from the sky cool gray interior motif. That same blue appears again in a small drawer that pulls out from the centre stack. Cadillac says multiple interior colourways will be available.