Ministry of Interior Affairs: 2023 Nissan Ariya
Nissan's first electric crossover hints at a brand that's leveling up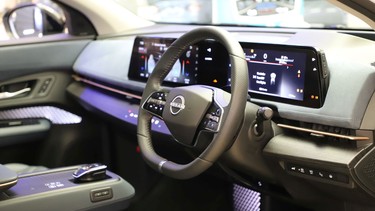 2023 Nissan Ariya Photo by Jay Kana
It feels like it's been a long wait since the covers first came off the Nissan Ariya battery electric crossover back in July 2020. Now, the Ariya has finally landed on Canadian soil for the first time.
It's not driveable yet, though. In fact, the example we previewed isn't even laid out for North America. It's a right-hand drive pre-production prototype from Japan.
Here at the Ministry of Interior Affairs, though, our duty is to study vehicle interiors in extreme detail. Nissan says the Ariya represents a step up in production quality and a significant shift in design for Nissan's electric vehicles. From our first look, these claims appear to hold water.
Nissan says the Ariya's interior is designed to invoke a "lounge" feel that makes it a comfortable and soothing place to relax. The dedicated electric vehicle platform removes the need for a drivetrain channel, which permits an open and airy footwell area across the full first row.