Motor Mouth: 6 fearful predictions for the auto industry in 2022
Jaguar will be gone, there'll be a revolution in China, and EVs' price parity with ICE-powered cars looks as elusive as ever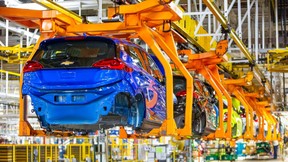 A Chevrolet Bolt EV being manufactured at General Motors' Orion Assembly Photo by Jeffrey Sauger for General Motors
The history of New Year's resolutions is fraught with — who could have possibly guessed? — miscalculation. For instance, when, in 45 BC, Julius Caesar decided the sun would serve as the basis of his new calendar — and having added no fewer than 67 days to the year 46 BC to enable the conversion — he and his astronomer buddy Sosigenes attributed exactly 365-and-a-quarter days to the solar cycle.
In actual fact, there are 365.24 days in a solar year. One mightn't think that 0.01 of anything would make much of a difference, but, according to historian Gordon Moyer of Scientific American fame, by 1581, that seemingly slight discrepancy had resulted in January 1 celebrations being 11 days late.
Now, Pope Gregory XIII (he of the Gregorian calendar we use today) didn't give a rat's you-know-what about New Year's resolutions, they being the pagan worship of the two-faced Roman god Janus (he looked backward so his acolytes could ask forgiveness, and forward so they could plan their amends for the future). But the good pontiff was bothered that Easter, which he most certainly did care about, would eventually be celebrated in the full bloom of summer.
So, the first thing he did was to decree that 10 days would be removed from 1582 in order to — and here I am quoting Moyer, because I really don't know what this means — "restore the date of the vernal equinox to March 21." Then he had his experts, led this time by a Jesuit astronomer, add our convoluted (yet still inaccurate) leap-year adjustment to compensate for future time shifts. So, not only are all our January predictions based on pagan sacrament, but they're not even on time, making our ritualistic countdown ridiculous. All of which is to say that you might want to take all New Year's predictions, including those about to follow, with a grain of salt. Nonetheless, these are the headlines I expect to read next year.
This is, in my 36 years of reporting on the automotive industry, the saddest prognostication I have ever had to make. Jaguar is not only a storied marque, but one close to my heart. I think the XJ the loveliest of luxury sedans, the company's iconic straight-six the smoothest of internal-combustion engines, and the marque's stylings some of the best sculptures the automotive world has ever seen.
Nonetheless, sales, as they say, are in the toilet. The XJ is gone, the F-Type not even an afterthought, and the I-Pace, once boasted as the company's future, a dismal failure even by EV standards. Were it not for the F-Pace — which itself is beginning to age fast — Jaguar would have even less than the pathetic 0.09 per cent of the U.S. marketplace it currently enjoys. Hell, according to Good Car Bad Car, the only 'major' brand selling worse in the U.S. is Fiat, another prime candidate for Gone Baby Gone status.
Worse yet, according to Le Monde, the company plans to go into complete "hibernation" until 2025, Philippe Robbrecht, head of Jaguar Land Rover's French arm, suggesting that the British automaker wouldn't be introducing any new models — or even major updates to its current lineup — over the next three years. Despite its commitment to completely electrify its lineup by 2025, plans for a battery-powered XJ have been scrapped because it's not nearly as luxurious as the Maseratis and Bentleys Jaguar hopes to soon compete with.
In the meantime, nothing it sells currently will be upgraded before being sent to the junk pile, and all the EVs it's been promising for the last couple of years as proof of its revitalization have also been scrapped. That doesn't sound like a plan for rejuvenation to me.