Motor Mouth: Automakers see huge profits thanks to pandemic
The dirty secret of the microchip shortage is that it's been really good for automakers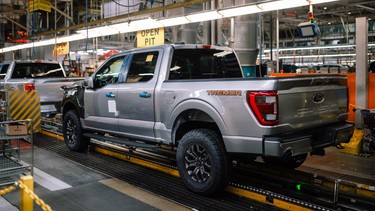 After 75 years of production, Ford has buit its 40-millionth F-Series truck — a 2022 F-150 Tremor in Iconic Silver Photo by Ford
It's been quite amusing to watch automakers try to justify their recent good fortunes. Many have credited their recently bulging coffers to a leaning of poorly-performing models, a good old tightening of product portfolio, as they say. Still others claim it's the result of aggressive cost-cutting in their manufacturing processes. A few are even pushing the fable that their recent record — or near-record — profits are the result of the dramatic shift in the demand for electric vehicles.
They're all pretty much full of you-know-what. The real reason the auto industry has been doing so well lo these last few months, the real impetus for all the rosy fiscal results they've been positing, the fact that they're all trying very hard not to say out loud is that—
That lack of wheeling and dealing has shown up on bottom lines around the world. Volkswagen, for instance, sold 2.3 million fewer cars in 2021, but still managed to make more money. In fact, according to HTAuto, the 8.6 million sales the world's number-two automaker saw last year were not only down from the 11 million it moved in 2019, but also were 6.3 per cent fewer  cars than it moved in pandemic-ravaged 2020. Yet thanks to rampant demand and the dwindling supply of microchips, its overall earnings swelled to US$22.1 billion, a 73-per-cent increase over 2020.
Closer to home, General Motors broke its previous record set in 2015 in reporting EBIT-adjusted profits of US$14.3 billion. And, while Ford's 2021 revenues were bolstered by the sale of Rivian, its US$17.9 billion in profits were the highest since 2011. Both, by the way, sold fewer cars in 2021 than they did in 2020. Even usually profit-challenged Stellantis got in on the bounty. Though the Fiat-Chrysler-Peugeot amalgam bucked the sales decline trend by moving 3.5 per cent more cars — 6.1 million units, versus 5.9 million — in 2021, the real news is that its profits almost trebled to 13.3 billion euros from just 4.8 billion euros the year before.