Motor Mouth: Is this the future of internal combustion?
The solution to zero-emissions internal combustion for cars, hybrids and even motorcycles may come from aerospace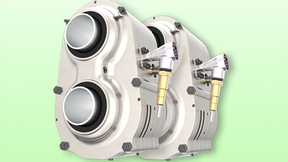 The Astron Aerospace Omega 1 engine Photo by Astron Aerospace
Watch this video. The entire 10 minutes. Yes, it's long. And yes, the first three minutes are confusing and/or boring, which, by all that YouTube holds holy, should be the death knell for any public interest.
Nonetheless, persevere. If you're a gearhead, right around the 3:38 mark, an inkling — if, as legend has it, there are 10 inklings in a clue — might set in as to what is going on, namely that the engine you're seeing, the Astron Aerospace Omega 1, might have a little in common with the two-strokes we all rebuilt when we were toddlers.
But, really the crux of this discussion — the reason why this might be the saving of the internal-combustion engine — happens at the 6:20 mark. That's when a veritable light bulb — that metaphoric illustration for everyone who's ever said, "Why the f%#! didn't I think of that?" — goes on, and possibly the greatest thing to happen to internal combustion since George Kettering invented the automotive starter motor smacks you upside the head in a wave of brilliant clarity. Maybe, just maybe, we motorheads can have our internal-combustion cake and eat it — the "it" being the zero-emissions future the world needs — too.
The hard bit of this discussion is understanding how the Omega 1 works. I've seen a few explanations comparing it to a Wankel rotary engine, but I think that's completely off-base. Felix Wankel's finest — he's the NSU engineer who developed the first rotary — is really an eccentric rotary design. From an engineering point of view, there's still a piston — even if it's triangular in shape — that has to translate its odd path through the combustion chamber into rotary motion. More efficient than the conventional piston engines, it still faces most of the same problems: it still needs "seals" to contain combustion — like the piston rings in an ICE — and with oil flowing throughout the engine (and sometimes past those seals) you'll always have pollutants, no matter how clean your fuel.
I think the better analogy is to say that the Omega 1 is more like a gas turbine that's been converted to internal combustion. Both are purely rotary in nature and incredibly simple in construction — i.e. it has none of the valves, springs, and camshafts that make the modern ICE so very complicated. The difference between the Brayton cycle — that's me pretending to know how gas turbines work — and the Omega design is that a turbine is powered by continuous combustion, while the Omega spins its rotor with a single forceful explosion (per revolution) just like the piston engines we all know and love.
That difference is important to the Omega's use in automobiles, motorcycles, and even personal watercraft. Turbine engines are incredibly efficient — hence why Chrysler produced 55 Ghia-bodied "Turbine" cars in the early '60s for public testing — but, because they work on a continuous basis, their response to throttle is left wanting. They just don't spool up very quickly, and, while powerful, they are sluggish in acceleration and suck back gas when they're not cruising at a steady speed. On the other hand, because the Omega 1 works with an instantaneous explosion, its throttle response should be akin to a piston-powered ICE.
As for how it works — and this most basic of explanations is for all of those who didn't experience divine understanding at that 6:20 mark — the power-generating portion of the Omega 1 incorporates two rotors, one directly above the other (two other rotors handle the intake and compression strokes). The lower rotor is round except for a distinct "hump" on its outer diameter. The upper rotor has a corresponding hole on its periphery as if someone took one bite out of a piece of a whole pie. I don't think it should be much of surprise that as the rotors rotate, those two anomalies are perfectly co-ordinated, the hump fitting perfectly into the hole as they spin around in perfect synchronicity.