Motor Mouth: What's happening to Lada?
Lada's Russian website has been completely shut down—is it a DDoS hack, or is something more nefarious going on?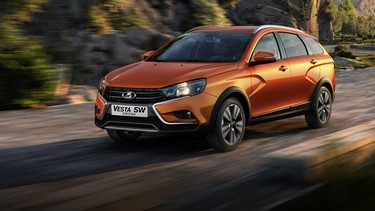 The 2021 Lada Vesta Photo by AvtoVaz/Renault
In the three weeks since the Russian invasion of Ukraine, Lada, the very face of the Russian auto industry, has gone from a dramatic raising of its prices; to stopping all its domestic production; and finally to what seems to be a total blackout.
Three weeks ago, everything was normal. Indeed, on February 22 — two days before Russia "special operation-ed" Ukraine, I'll remind you — the company introduced its most important car of the year, the second-gen Vesta. And, as recently as last week, you could, if you were so inclined, still visit the company's domestic online showroom.
In real terms, this worked out to an average increase of 147,000 rubles — approximately CDN$1,725 at March 1's exchange rates — which pushed several models past the one-million-ruble threshold. For example, the Niva — the one Lada that Canadians will recognize, because it was sold here from 1979 to 1997 — saw its base price jump from 879,900 rubles to 1,003,900 rubles (CDN$10,324 to $11,800).
[UPDATE: In what you could call the most bizarre of coincidences, after spending an entire weekend down, the lada.ru site was brought back online roughly six minutes after this story was published. Our original report continues unedited below. —Ed.]
Indeed, the last we heard about Lada was the Wall Street Journal "scoop" about ten days ago that there would be a temporary shutdown of Lada assembly. But with sanctions screwing with the production of everything from the aforementioned microchips to basic wiring harnesses, that's not news either.