Naked man hid in B.C. woman's trunk for 3 days before she noticed him
The nude squatter went to the work with her, to the gas station, to get sushi, and more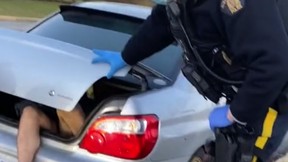 Naked man emerges from trunk Photo by Bethany Coker /Tiktok
A Red Seal diesel mechanic from Nanaimo, B.C. was a little puzzled when she noticed some mud in the interior of her vehicle, but Bethany Coker initially thought somebody had broken in, left some dirty tracks, and made off with a handful of change from under the seat or something. 
Three days later, however, she learned the truth when a voice from inside the car said "hey": not only had somebody broken in, but they'd stripped down naked and made themselves at home in the trunk.
In a video posted to social media platform TikTok that has been viewed 16.8 million times, Coker confronts the naked stranger who'd been steaming up her windows for days, riding silently in the back as she drove to work, and to get dinner and gas.