On the Road: Calgary's Ace-Hy Motorcycle Club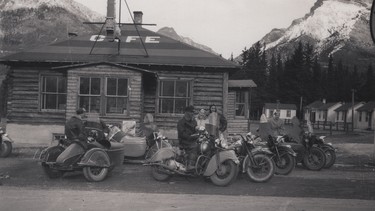 On the road to Banff at an unidentified cafe near Canmore with the Ace-Hy Motorcycle Club of Calgary. Tourist cabins appear in the right of the image. Photo by Jack Leong/Ace-Hy Motorcycle Club Archive
Motorcycles and cameras were a passion for Jack Leong. In the late Forties and early Fifties, the rider and photographer trained his lens on the Ace-Hy Motorcycle Club of Calgary and captured a special moment in time.
Established in 1939 by Walt Healy and a few other enthusiasts, the Ace-Hy club was active in the community sponsoring hill climbs, hare scrambles, ice racing and flat track racing. The group also routinely rode west to Banff, and farther afield on motorcycle adventures. But, in the mid-Sixties, the club began to languish, becoming only a memory to many of those who'd been involved. Not forgotten, though.
That's when and how an incredible archive of close to 500 images taken by Leong, who died in 2015, came to light. Leong's daughter, Denise Eckert, follows Village Ice Cream on Instagram, and saw an Instagram post mentioning the event and was surprised to see the Ace-Hy name. When she commented her dad had been a part of the original Ace-Hy and possessed many photographs, current Ace-Hy member Kaetyn St. Hilaire asked if he could see them. Eckert agreed and allowed St. Hilaire to scan all she had – they now form the Jack Leong/Ace-Hy Motorcycle Club Archive (@acehymotorcycleclub on Instagram).
Post war, he returned to Calgary where he gravitated towards motorcycles. His machine of choice was an Indian Chief. Because he was riding a Chief, he became connected to Walt Healy who, besides helping establish the original Ace-Hy club, was proprietor of Calgary's Indian Motor Cycle Sales and Service.
"I know my dad had other motorcycles that he raced and hill-climbed with the Ace-Hy, but he just really seemed to be passionate about Indian," Eckert says.
It was through the Ace-Hy club that Leong met Jean Tewsley, his wife-to-be. "The club had so many social events," Eckert says, "And that's where they met. My dad was 26, and she was 18."