Ontario lands large Magna electric vehicle parts factory
'I can't stress how excited we are to have (Magna) here'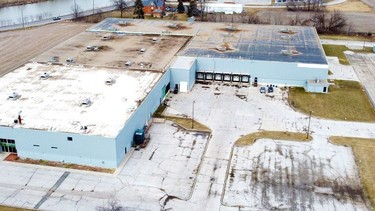 Auto parts giant Magna will be manufacturing lightweight aluminum battery enclosures for the Ford F-150 electric pickup truck at this Irwin Street plant in Chatham, formerly the Crown Metal Packaging plant. (Ellwood Shreve/Postmedia Network)
First, a blockbuster $5-billion electric vehicle battery plant is announced for Windsor that will employ 2,500 people.
Now, a week later, a new auto parts plant in Chatham – feeding off the same transition from gas-powered to electric vehicles that is rippling across Southwestern Ontario's auto industry – has been announced.
The enclosures will be built at the former Crown Metal Packaging plant, a 15,794-square-metre (170,000-square-facility) in Chatham that's been vacant since that company ended production there in late 2015.
"As of now, we do not plan to expand, but you just never know what the future holds," Page said.