Ontario risks losing auto crown as green power gives Quebec the EV edge
As both provinces race to woo automakers and battery makers, a new quandary could arise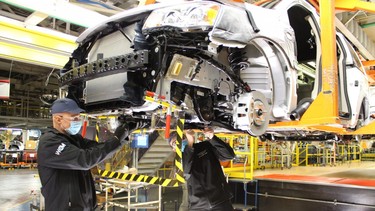 The Stellantis minivan assembly plant in Windsor, Ontario Photo by Fiat Chrysler Automobiles /Reuters
Ontario Premier Doug Ford this past fall spoke at a provincial construction industry conference and told his audience that his province would be at the vanguard of the next revolution in automotive production. "We're going to be the No. 1 manufacturer of electric cars anywhere," he said.
Similar things are said next door in Quebec. Economy Minister Pierre Fitzgibbon regularly brags about the powerful combination of his province's rich mineral endowment and the cheap, low-emission electricity produced by Hydro-Québec. "If we play our cards right, we could become world leaders in this market of the future," he said at a press conference a year ago.
That adds to the electric van and bus manufacturer Lion Electric's planned battery assembly plant outside Montreal. And several battery companies, including BritishVolt Ltd., a United Kingdom-based manufacturing firm that has partnered with Glencore PLC, have expressed interest in building a facility in Quebec.
"Obviously, I think Quebec and Ontario are always in competition for the new auto industry," said David Adams, president of the Global Automakers of Canada, a lobby group that represents non-American companies such as Honda and BMW.
At a press conference this week in Montreal at which GM announced its plans to build its $500-million cathode plant, François-Philippe Champagne, the federal industry minister, portrayed the project as a victory for all of Canada. "The competition, it's never between us," he said, as translated from French, "but it's really with the different American states."