Ontario to test higher 110 km/h speed limits on stretches of northern highways
Ontario to set speed limits on six highway sections in southern Ontario at 110 km/h permanently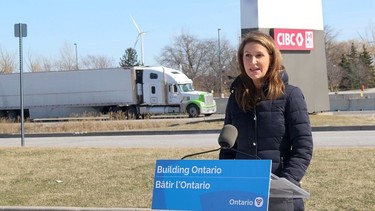 Minister of Transportation Caroline Mulroney announced Tuesday that the speed limit is rising to 110 km/h on a 40-kilometre section of Highway 401 between Tilbury and Windsor beginning April 22. The speed limit is also increasing from 100 km/h on five other sections a major highways in Ontario. Photo by Ellwood Shreve /Postmedia
The provincial government will launch a pilot project that will see a top speed of 110 km/hr on a 55-km stretch of Highway 400 between MacTier and Nobel, south of Sudbury.
That section of road connects to Highway 69, which starts in Sudbury and heads south to Toronto.
Asked if she would extend the initiative to all 400 series highways, Mulroney said the government would "explore" raising speed limits on other sections.