Our roads are getting less safe — stop blaming the victims
Every year, more Canadians buy needlessly larger vehicles, while the pedestrian death toll grows in sync, too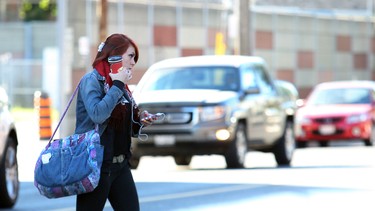 In this file photo, a woman wearing headphones crosses the street at a Toronto intersection. Photo by Craig Robertson /Toronto Sun
"SUVs, pickups, vans, and minivans are substantially more likely than cars to hit pedestrians when making turns, suggesting that these larger vehicles may not afford drivers as clear a view of people crossing the road, a new study from the Insurance Institute for Highway Safety shows."
That's it. That's the opening shot, and also the summary, of a study from a highly reputable organization that devotes itself to traffic safety. And nobody will care. There is absolutely nothing in that opening quote that is a surprise. It is not news. When you can't see what is happening outside of your vehicle, you are more likely to hit things.
Your car has never been more able to protect you and your passengers, and that's an outstanding achievement. Even more importantly, these systems are becoming standard on more and more vehicles, not just those nesting at the top of the food chain. 
What consumers have to remember, though, is that while you can pretty much assume your airbags will activate and save you because they've been doing that for decades, those pedestrian safety systems? Not quite so reliable. When there isn't adequate lighting, the IIHS found they made no difference at all. In the very circumstances that you as a driver are least likely to see that pedestrian, your car is not so great at detecting them, either.
Crash data rarely drills down far enough, and yet, this most recent IIHS study reveals it is this very information that we desperately need. Over 80 per cent of vehicles sold in Canada last year were pickup trucks and SUVs. "Hood height of passenger trucks has increased by an average of at least 11 per cent since 2000 and new pickups grew 24 per cent heavier on average from 2000 to 2018," says Consumer Reports.