Range Finder: 2022 Mercedes-Benz EQS 580 4Matic
A huge battery makes the 2022 Mercedes-Benz EQS 580 the longest-range EV we have tested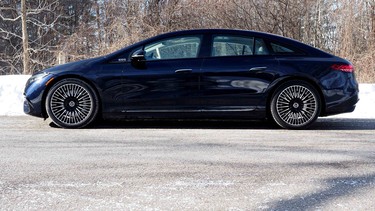 2022 Mercedes-Benz EQS 580 4Matic Photo by Chris Balcerak
The EQS is the spiritual heir — if not ultimately the probable replacement — to the S-Class. In Mercedes' hierarchial product development cycle that makes it the car that will be the harbinger of all the battery technology the German luxury marque is promising to bring to market so quickly. So, while it's true that Mercedes has been selling electrified vehicles for some time now, they've been built on existing platforms shared with combustion engines. This new 2022 Mercedes-Benz EQS 580 4Matic, on the other hand is the first car out from Stuttgart that was conceived as purely battery-powered. The technologies we see here today will soon trickle down to mainstream GLK and GLAs. So here's how it fared when Range Finder took it out on the open road until we ran out of lithium ions:
All those kilowatt-hours may add a whole bunch of weight — the EQS580 weighs in at an SUV-like 2,585 kilograms – but it does boast the longest range we've ever tested: 332 kilometres. Now, that may not sound like much compared with some of the outrageous claims being made for its range — the EU's outrageously optimistic WLTP rating system pretends there's up to 700 kilometres to be had on a single charge while the EPA's more modest appraisal still says its good for 547 km. But Range Finder tests all its EVs at a steady 125 kilometres an hour on Ontario's hilly 407, a tougher, not to say more realistic, test of how owners will actually drive the big cruiser.
That the EQS was tested at minus 6 degrees Celsius might well have even sapped a little mileage from its projected range. In fact, the EQS's instantaneous range estimator — there's also a longer-term estimator — promised an extra 50 klicks if I would have turned off the heater. Nonetheless, the EQS's 332 kilometres remains the longest any EV has gone on a single charge in any of our tests, regardless of weather. By way of comparison, a Tesla Model 3 Long Range and Hyundai's Ioniq5 — both sporting about 75 kilowatt-hours of lithium cells — managed just 252 and 222 kilometres respectively in slightly colder conditions. Judging from our previous tests in sunnier weather, Range Finder estimates that the EQS might eke out as much as 380 klicks on a single charge on a sunny summer day. The EQS' battery is huge and it has the range to prove it.