Reader Review: 2021 Ford Bronco Badlands
Calgary Jeep Wrangler Rubicon owner impressed with off-road chops and user-friendly nature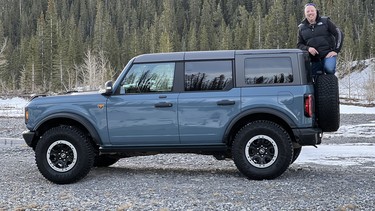 Six-foot-three Chris Braun with the Ford Bronco Badlands he drove in and around Calgary for a week. Photo by Cathy Braun
If you've purchased a vehicle in the past year and want to share your experiences with Driving.ca readers, we want to hear from you! Send us a note telling us a bit about the vehicle you bought to [email protected] and you might be covered in an upcoming Owner Review.
Ford's resurrected Bronco had to be one of the most anticipated vehicle launches in recent memory. Calgary's Chris Braun was just one of hundreds of thousands following news releases and watching YouTube videos as the re-imagined Bronco was teased to the public, and he couldn't wait to get his hands on one.
Ford's Bronco has a long history dating back to 1965, when the first generation of the go-anywhere vehicle was introduced. Thirty years later and after several iterations, the last of the fifth generation Broncos left the factory in 1996. In 2017, Ford announced plans to build a new Bronco with a spring 2020 unveiling, but thanks to pandemic delays, vehicles were slow to materialize. Six Bronco model have now been released, however, in two and four door formats from Bronco Base to top of the line Wildtrak. Starting prices range from $41,299 for a two-door Base to $61,199 for a four-door Wildtrak.
Regardless of how expensive it is, Braun says, "I think the Bronco will give Jeep a run for their money. It's quite a bit more refined than a Jeep Wrangler, and it's not fatiguing to drive. With our Wrangler, that can be an exhaustive experience." First things first, though. Braun was delighted with the overall presence of the Bronco finished in a steely blue-grey hue Ford calls Area 51.
At 6-feet 3-inches tall, Braun found the Bronco easy to access. His wife and three daughters, though, were all looking for grab handles for assistance into the truck where marine grade black vinyl seats welcomed them.