Road Trip Review: 2022 Toyota Corolla Cross
Taking a trip to the home of Toyota and the most popular car in the world in the vehicle meant to replace it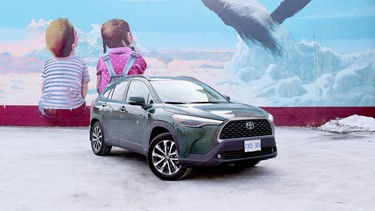 2022 Toyota Corolla Cross Photo by Sami Haj-Assaad
The Toyota Corolla is an entity that's impossible to avoid. Whether it was a hand-me-down in high school, a first new-car purchase, a rental while on vacation, or simply a left-lane bandit on the highway, Corollas are everywhere. The Corolla and Canada have a deep connection, reaching back to the late 1960s with plenty of milestones carrying it to the present day.
In 1988, Toyota announced it would start crafting the Corolla in Cambridge, Ontario, which became the home of Toyota Motors Manufacturing Canada (TMMC). It wasn't the company's first experience with a Canadian workforce, as early generations of the Corolla were actually made out east by Canadian Motor Industries in Sydney, Nova Scotia.
The Corolla Cross looks totally different from the Corolla we're used to, with larger proportions and a rugged edge. We decided to make the trek to Cambridge, the heartland of Toyota in Canada, to better understand the new addition to the family.
The Corolla Cross is the automaker's answer to the constant stream of crossover-consuming customers out there. Like the station wagon and minivan before it, the sedan seems to be on its way out, and the crossover is the new hotness. Spiritually, it's a Corolla spin-off, but in reality, it's a more practical big brother of the subcompact Toyota C-HR, a quirky-looking vehicle that offers more style than substance.
It drives different than the C-HR, with an assured demeanour. The 2.0L four-cylinder engine in the Corolla Cross puts out 169 horsepower, which is far from extravagant but is adequate at pushing this 3,200-pound compact around. It's not too much, but not too little; it's just enough, which feels like the mantra behind the Corolla over the past 56 years.