Spied! The 2023 GMC Yukon Denali is going Ultimate
Following in the tracks of the 2022 GMC Sierra 1500, it looks like the Yukon will receive the Ultimate trim treatment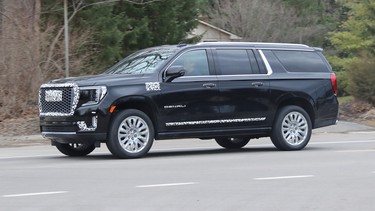 Spy shot of secretly tested GMC Yukon Denali Ultimate Photo by Spiedbilde
It looks like the Yukon Denali forgot to wipe off its makeup from the night before — just kidding, that's just a bit of camoflage on the Yukon Denali Ultimate, caught testing in Metro Detroit recently. If you thought the Denali trim was fancy, this is a peek at the new range-topping model. Yes, there's something higher than the plain ol' Denali, and it's Ultimate.
This photographed prototype has pieces of camouflage throughout its entire body, hiding very specific areas that would lead us to deduce we'll see changes to the front and rear fascias, and a bit of the trim.
The interior will surely be just as decked out as the original Denali, if not more. It's possible that the top trim will receive GM's Super Cruise system, but maybe even the Ultra Cruise system — who knows?