Sudbury chasing potholes with new Python 5000 patching machine
Machine will fill potholes with fewer people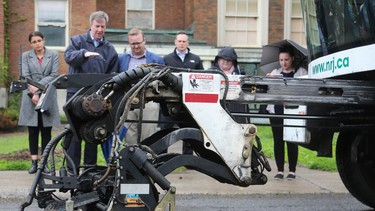 Ottawa city councillors look at the Python 5000, a unique piece of equipment to repair potholes. The City of Greater Sudbury has recently purchased a Python 5000, which should make its local debut soon. Photo by Jean Levac/Postmedia News
The Sudbury snake has hit the streets. Now, drivers in the Nickel City will notice a new, oddly-shaped addition to the roadscape.
"We are happy to say that on Nov. 21, the Python was delivered to the Lorne Street fleet garage several months earlier than previously anticipated," said Brittany Hallam, director of linear infrastructure services, told members of city council's operations committee on Monday. "Since that time the machine has been prepared by fleet and staff have completed in-depth training on the equipment."
"The Python is intended to be used through the winter and summer months to primarily perform pothole-patching operations on the city's class 1-3 roads as the class 4-6 roads are maintained to a snow-packed state during winter months," Hallam said.
Hallam also offered an update on the city's winter road maintenance operations. The season got off to a slow start, she noted; November was a quiet month that did not necessitate any crew call-outs. As part of her presentation on winter road maintenance, she noted the city accrued a surplus of nearly $4 million in 2021 (excluding December). While there is some winter still to go, that bodes well for the municipal coffers.
In 2021, there were only two snow events requiring a full call-out – both in February – and the accumulation of snow was lower than anticipated.