SUV Review: 2022 Chevrolet Traverse RS
This bowtie bus serves up an alternative to the modern minivan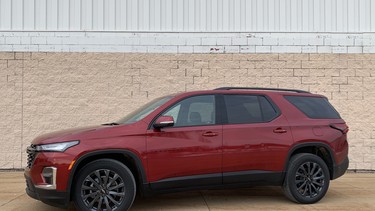 Bocca della Verità — the Mouth of Truth, in Italian — is an ancient carving located just outside the doors of Rome's Basilica di Santa Maria. Featuring a vaguely humanoid face with an open mouth, superstition tells us that anyone who puts their hand into the mouth while telling a lie will get their hand chomped off.
Italian politicians are notably absent from the carving's list of frequent visitors.
For those who are still sleeping off the effects of our latest mid-winter snowstorm, allow us to reiterate the 2022 Chevy Traverse is the fifth model year of a second-generation nameplate, freshened for this annum with updates to its exterior styling and interior trappings. On tap is a new front fascia bearing standard LED headlamps and an array of fresh trim-dependent grilles. This test unit wears RS badging, easily identified by its lack of brightwork which has been substituted for blacked-out trim and badging.
Unlike models from the halcyon years, 'RS' might still stand for Rally Sport but no longer promises anything extra under the hood. The 2022 Traverse is offered with a single powertrain option, showing up as a naturally aspirated 3.6L V6 engine rated at 310 horsepower 266 lb-ft of torque. Mills of this type generally make peak torque near redline, but GM has managed to pull a trick and have all this engine's twist on deck by 2,800 rpm. This permits the big V6 to display some traits of a small-displacement turbocharged unit (good around-town power delivery) but without a turbo's complexity or thirst for premium.