SUV Review: 2022 Ford Expedition Max Limited
It's big, it's expensive, but it's also very roomy and comfortable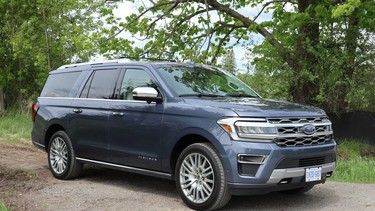 2022 Ford Expedition Max Platinum Photo by Jil McIntosh
Back for 2000, Ford one-upped its Expedition by introducing the Excursion, the largest SUV made by anybody at the time. It lasted only a few years, with some critics blaming its poor sales on the premise that it was possible to make a vehicle that was simply too big.
But that was then, and this is now. I'm in the 2022 Ford Expedition Max, which is exactly the same width as that bygone Excursion, and shorter than it by less than the width of my outstretched hand. If you're shopping in this segment, measure your garage and driveway first.
It's one of a few big body-on-frame SUVs on the market, but GM is the only other automaker offering two lengths along with Ford, as the Chevrolet Suburban and Tahoe, and GMC Yukon and Yukon XL. Their upscale counterparts, the Lincoln Navigator and Cadillac Escalade, come in two lengths as well. Others in the category come in a single length, including the Toyota Sequoia, Nissan Armada, and new Jeep Wagoneer and Grand Wagoneer.
All trims use a 3.5L V6 with turbocharger — Ford calls it EcoBoost — that's tuned differently depending on the trim level. In the Platinum, it makes 400 horsepower and 480 lb-ft of torque. It's almost hard to believe that six cylinders can pull a beast this big around, and with the strong acceleration this thing has. It's officially rated at 12.9 L/100 km in combined city/highway driving, while I averaged just slightly higher at 13.2. If you opt for a gasoline engine in the similarly-sized Suburban (which also offers a diesel), the two available V8s are rated from 14.3 to 15.1 L/100 km in combined driving.
Towing capacity for the Max is 6,600 pounds, but when equipped with a maximum towing package – which added $894 to my tester – you can go to an impressive 9,000 pounds. The package includes Pro Trailer Backup Assist: turn a dial on the dash in the direction you want the trailer to go, and the truck obediently steers itself the correct way. It's handy, but you still need some basic knowledge of trailer positioning, and a novice won't become an expert on the first attempt. You also have to first calibrate the trailer with sensors or stickers. Once you've done that, the truck stores the profile info for up to ten trailers.