SUV Review: 2022 Lexus UX 250h AWD
Lexus' entry-level model comes only as a hybrid for 2022, and with pluses and minuses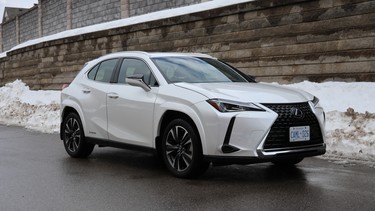 2022 Lexus UX 250h AWD Photo by Jil McIntosh
It seems there are two things Canadians want in a Lexus: a hybrid powertrain and all-wheel drive. That's the only way you can get the UX for 2022, the automaker's smallest sport-utility and its least-expensive vehicle overall.
It came with two powertrains last year, including a gasoline-only version in front-wheel drive. Whether it was for the fuel savings, or the all-wheel, or both, it seems 95 per cent of buyers went for the hybrid. Unsurprisingly, the 2022 Lexus UX 250h hybrid is now the only UX offered in Canada.
The vehicle doesn't get plugged in. Instead, it recharges itself with regenerative braking, capturing and converting the energy otherwise wasted in deceleration. If that's not enough, it can also convert power from the gas engine. Depending on various factors — driving conditions, ambient temperature and more — the UX will automatically switch between gasoline, electricity, or a combination. There's an "EV (Electric Vehicle) Mode" button, and it'll run on electricity alone when it's activated, but only at low speeds and with a light foot on the throttle. I find it pointless, since the UX does that anyway, and if you exceed those limits, the mode shuts off.
The UX is a bit underpowered for its weight and takes a bit to get up to speed, and the CVT tends to drone as you accelerate, but its steering and handling are surprisingly sporty. It's very responsive, it maintains its composure in corners, and the ride is smooth and comfortable. The switch from gas to electric is generally seamless, and the payoff is a published rate of 5.7 L/100 km in city driving; 6.2 on the highway; and 6.0 in combined driving (unlike conventional vehicles, hybrids get better mileage in the city, since they can run on their batteries more). It also takes regular-grade gasoline.