SUV Review: 2022 Mazda MX-30
Its 161-km range won't be appealing to everyone, but Mazda says it's enough for daily urban commuter use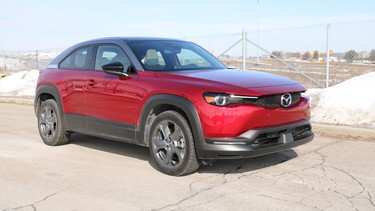 2022 Mazda MX-30 Photo by Jay Kana
Rolling up in its first all-electric offering, the 2022 MX-30, Mazda has arrived fashionably late to the EV party. It's one of the company's most important debuts, as the MX-30 lays the framework for the electrification of future models. It's on the lower side for range, and there are a few quirks sprinkled in the MX-30, as well as some questionable design elements. However, everyone has to start somewhere, and for Mazda, this is its lane-change into an upcoming electric world. 
With up to 161 km of range, the MX-30 runs off a 35.5-kWh lithium-ion battery powering an electric motor that generates 143 horsepower and 200 lb-ft of torque, powered through the front wheels. An all-wheel-drive system would've increased cost and weight, plus reduced range. On the road, there's still the push of instant torque, but with the smaller-sized architecture, it's not as brisk as its bigger-battery competitors, acceleration-wise.
There are five levels of regenerative braking controlled through paddles on the steering wheel. The right paddle increases coasting and the left paddle increases resistance, which maximizes the amount of power returned to the battery. The default position is three, and there is no one-pedal driving feature. I averaged between 130 and 140 kms each charge through a frosty February week that saw the HVAC system heavily used, and for my lifestyle, that's plenty. Range anxiety can easily be quelled with some research and planning for driving behaviour to maximize up to 161 kms.
"The MX-30 EV was not intended to be a do-it-all vehicle for most people, and it may not appeal to a mass audience," Chuck Reimer, Mazda Canada's Manager of Product Communications, says of the lower range. "But for customers who appreciate the priority that Mazda places on the driving experience and overall design and attention to detail, we believe the MX-30 will create a bond with owners in a similar way that the MX-5 does as well."
The MX-30 offers all three levels of charging, and for the ever-important 20-to-80-per-cent times, it works like this: Level 1 takes 13 hours and 40 minutes; Level 2 takes two hours and 50 minutes; and Level 3 will conveniently charge in 36 minutes. The majority of EV drivers will have a Level 2 charge box installed at home, or have close access to public charging stations.
Mazda's research claims the average Canadian drives 40 km daily, which would allow the MX-30 to fit the lifestyle of those that Mazda is targeting. As someone who lives in central Mississauga, there are over 20 chargers within five kilometres of my home, so even without a Level 2 home charger, there are nearby options.