SUV Review: 2022 Porsche Macan
The base Macan is a formidable winter driver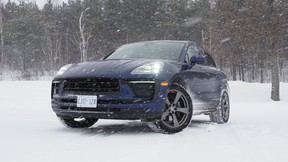 2022 Porsche Macan Photo by Justin Pritchard
Among all shoppers, Porsche says that some 60 percent of Macan buyers are 'conquests' — that is, shoppers lured to the Macan and away from vehicles built by other automakers. Of those, Porsche says that 60 per cent of all shoppers considering the brand's entry crossover model are doing so primarily for its driving dynamics and exterior styling.
Fresh out of an update for model-year 2022, the German-built Macan now boasts a refreshed interior and exterior, more output from an updated powertrain range, and more features and available equipment. My tester ran the four-cylinder turbo engine, good for 261 horsepower. This unit starts at $58,500, and optional equipment fitted to my tester (including $3,370 worth of satin platinum sport 20-inch wheels) drove the ask to $71,500.
With standard AWD and wearing a set of Michelin Pilot Alpin tires, it proved a great driving partner for some of the nastiest winter conditions I'd faced all winter. Below are my key impressions from an 1,100 kilometre test-drive on the highways connecting central Ontario to areas further north, as well as the trails and backroads surrounding my home in Sudbury Ontario.
What follows are my most notable impressions from an extended wintertime test-drive in challenging conditions, including several hundred kilometres of highway driving in heavy snow.
The first thing test-driving shoppers will likely notice is the Macan's steering. The wheel is sporty and slim, it's got thumb notches for a sturdy grip, and on the road it feels quick and responsive. It's rock-hard bolted on, heavy, and precise — but also very quick. Drivers need only a few millimetres of wrist movement to go around a corner; simply tighten one hand or the other, and that's a lane change. It's hair-trigger steering that feels pure sports car, from the tips of your fingers to the contact patches down below. 
Next, you'll notice an immediately thick, rigid, and planted character to the Macan as it moves down the road. The machine feels solid as can be — no rattles or squeaks were detectable, even on rough roads in extreme cold. This helps to convey the sense of high-end quality and durability which shoppers at this price point expect.
Interior styling is familiar from other recent Porsche models, and for 2022, the latest Macan runs the most recent Porsche interior design language, thanks to its major update. Every Porsche now has an interior with some take on this unique theme, featuring a multi-pod instrument cluster, optional dash-mounted clock, central touch screen, and waterfall touch-pad console for other controls.
After hours of highway driving, I appreciated how most of the controls and touch-buttons are positioned down on the centre console and out of my line of sight. This contributes to an un-cluttered outward view. The interior shapes and trimmings are all clean and tidy, too. Though rich with detail if you're looking closely, the Macan's interior has little that's shouting for your attention. It's a clean, upscale look that's minimal — a luxurious cabin that's conducive to concentration.