SUV Review: 2022 Volvo XC60 B6 Inscription
New mild-hybrid system improves the drive, but complicated infotainment mars an otherwise enjoyable vehicle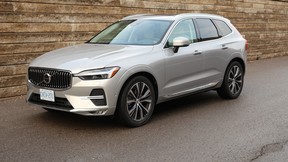 2022 Volvo XC60 B6 Inscription Photo by Jil McIntosh
"It was the best of times, it was the worst of times," as Charles Dickens so famously wrote. He obviously wasn't referring to a Volvo, of course, but having spent a week in the automaker's 2022 XC60, that vehicle could easily have inspired his words.
This midsize, five-seater sport-ute is among the best out there for driving, updated with a mild-hybrid engine and minor styling refresh. But it's hampered by an operating system that's unnecessarily cumbersome, requiring too much attention on the centre screen when you should be looking at the road. This is, after all, the automaker that pretty much put safety on the map.
My tester was the next-step-up B6, and in mid-range Inscription trim starting at $62,450. It was then equipped with a number of packages and stand-alone options that took it to $75,650 before freight and taxes.
While the B5 is only turbocharged, the B6 adds an electric supercharger, which replaces last year's mechanical one. Both these units pump in extra air — and, accordingly, extra fuel — for bigger-engine power out of that small engine as needed, and overlap to provide that across a wide range of engine rpm.
The engine's power passes through a buttery-smooth, eight-speed automatic transmission — shifted with a crystal lever that's a stylish touch, although I was not as enamoured with the double-tap required to engage each gear. All-wheel drive is standard, primarily powering the front wheels until more traction is required, and up to 50 per cent of torque can be sent to the rear. Acceleration is linear, and more luxury-smooth than sporty-powerful, which fits the XC60's personality very well. It's engaging, with responsive, nicely-weighted steering and composure around corners — some of which was due to my car's optional $2,350 four-corner air suspension with active damping. The ride is quiet and comfortable, the cabin is roomy for front and rear occupants, and there's a lovely feeling of being cocooned in it, especially with the optional massaging front seats and heated steering wheel.