Tesla fired worker who posted YouTube video of FSD accident
John Bernal says manager told him he was in part let go due to improper use of the company's "Full Self-Driving" tech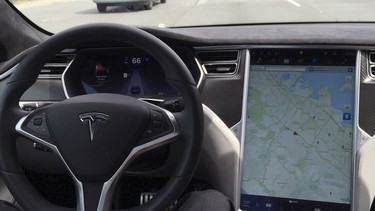 The interior of a Tesla Model S is shown in Autopilot mode in San Francisco, California, U.S., April 7, 2016. Photo by Alexandria Sage
Tesla terminated an employee six days after he posted a YouTube video of his car running into a traffic pylon while using Full Self-Driving, or FSD, the carmaker's controversial driver-assistance system.
John Bernal, who worked on the data-annotation team for Tesla's Autopilot system, received a separation agreement from the company on February 11, just under a week after he posted a video that now has more than 180,000 views. About 3 1/2 minutes in, Bernal's Model 3 makes a right turn too sharply and runs into a green pylon separating a road and bike lane in downtown San Jose, California.
Tesla's effort to limit information-sharing by FSD beta users drew scrutiny from the U.S. National Highway Traffic Safety Administration four months before the company fired Bernal. The regulator expressed concern in October about reports that participants in an FSD early-access program had been subject to non-disclosure agreements that discouraged portraying the feature negatively.
Bernal, whose YouTube account AI Addict has more than 8,300 subscribers, said another reason his manager gave for the termination was that his video channel was a conflict of interest. In addition to sharing an unsigned copy of his separation agreement, he shared a photo of the screen of his Model 3 showing that FSD beta had been suspended based on his recent driving data.