The 2023 Toyota GR Corolla is a 300-hp stickshift pocket rocket
With a turbo three-cylinder, massive slotted disc brakes, and variable-torque-split AWD, this hot hatch came to party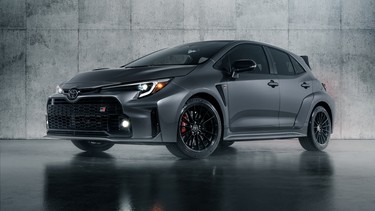 The 2023 Toyota Corolla GR Circuit Edition Photo by Toyota
[Well, Toyota itself leaked the Corolla GR's reveal early March 31, posting on a customer-facing landing page (see screenshot below) what appeared to be the details, specifications, and some features of the much-anticipated hot hatch, the automaker accidentally breaking its own embargo.
Our story below spells out our impressions of the car based on the information as revealed in that leak. —Ed.]
What's a GR, you ask? Good question. Basically, "GR" stands for "Gazoo Racing" which started, for all intents and purposes, as a skunkswork project so now-president-then-executive-VP Akio Toyoda could go racing. In 2007, he wanted to drive in the 24 Hours of Nurburgring. As it couldn't be an "official" Toyota effort, the team was called Gazoo Racing. But it was entirely staffed by Toyota employees, with Toyoda himself, thanks to the strict dictums of corporate Japan, having to race under an alias — "Morizo."
However underground the effort was, the two Altezzas-neé-Lexus-ISes — both sourced second-hand, says Gazoo legend — finished the grueling race, and thus was GR born. It's worth noting that Toyoda, despite now being CEO, still has a hand in all of this, reportedly testing the breathed-on Corolla at the Fuji Speedway and Suzuka.
And what a Corolla it is. Liberating the 1,618-cc inline-three from the GR'ed Yaris, Toyota has turned up the boost on the Corolla, the little turbocharged screamer pumping out an even 300 horsepower at 6,500 rpm; and 273 pound-feet of torque from 3,000 to 5,550 revs.