The Porsche Taycan Turbo S Cross Turismo reignites the lost magic of the 911
This hyper-modern shooting brake is all the best of Porsche — without the purist baggage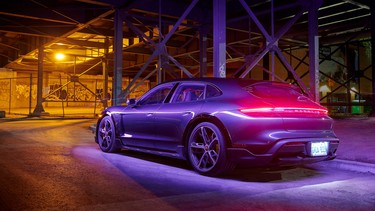 2022 Porsche Taycan Turbo S Cross Turismo Photo by Elliot Alder
The Porsche 911 is too excellent for its own good. 
On one hand, that's exactly the point — the 911 is at once a dagger of a sports coupe and a sweetheart of a daily. But on the other, a once-complex character has fallen two-dimensional. The myth of the 911 is as much in its rewarding splendour as in its punishing temperament, but that endearingly volatile hamartia has been so marginalized as to fall irrelevant. It's still great, just to a fault.
The Cross Turismo is Porsche's emphatically-not-a-wagon shooting brake. Building up from the gorgeous Taycan electric sedan, the sub-model takes fresh aim at those who never quite 'got' the Panamera with a new strategy: similar everyday usability, but with the novelty of whiplash. But more than just a bigger Porsche, the Turbo S Cross Turismo flares the four-door profile into something determinedly ballistic. 
Four-door sensibility and an electric powertrain obviously sets this a class apart from the storied 2+2 petrol sports coupe, but it retains many of the traits that draw people to the 911. Seating position and cockpit construction share the same well-appointed utilitarianism, with the same high standards for materials, fitment, and unobtrusive aesthetic coherence. Driving dynamics are carefully considered and sharply tuned, and we have seen that Taycans can run right up there with some of the tightest road-focused 911s.
Both an asset and a fault, the 911 was envisioned as a sports car that can be used every day. But where such fun, capable cars embody that role with promising purpose, they can just as readily frustrate traffic-bound drivers with an 'are we there yet' urge to zoom. Sporting pretence begets a heavy foot, and exercising the restraint necessary to keep a clean licence in a vehicle like the 911 Turbo S — one of the most technically impressive yet woefully disheartening vehicles I've driven on the road — itches to the point of pain. The 911 Turbo S isn't much fun until it gets loud, you see, so life at five percent throttle simply isn't much fun.