This 30-second test can save you hundreds on your next used car
Checking for front-end noises makes a big difference for your comfort and your wallet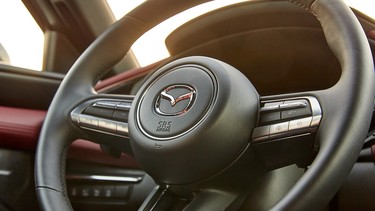 Mazda3 Sport GT Turbo Photo by Elliot Alder
During years of researching used cars, I've encountered several tips and tricks in online owner communities that can help test-driving shoppers quickly identify potential problems that could cost them money.
Below, I'll share one of my favourites with you: a 30-second test that can quickly reveal front-end trouble you'll want to know about before you sign that cheque.
The gist? Before you buy, making sure the front end of the vehicle you're considering isn't concealing one or more problems is a great way to start your ownership experience off right while potentially saving hundreds (or thousands) of dollars.
Start with small wiggles—about an inch in either direction.
In this way, our quick little test can reveal numerous front end problems that can cost you time and money to repair, and the presence of unwanted noises can be taken as a strong signal to have the front end of the vehicle you're considering inspected by a professional before you buy.