This classic Datsun 260Z is 8 cars welded together
If at first you don't succeed, cut, grind, and weld again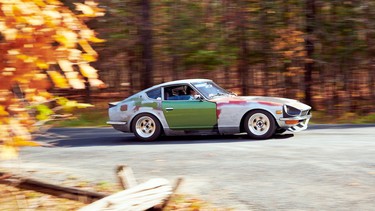 Ellie Barber's 1974 Datsun 260Z Photo by Elle Alder
Have you ever browsed Kijiji looking for the cheapest example of a particular car? Sometimes they're pictured with someone's thumb blocking a corner of the frame, resting forlorn in a field, parking lot, or storage yard. The ads are usually short and terse, possibly in all-caps. This 1974 Datsun 260Z was one of those cars, but after four years, it is out of the storage lot and driving.
Parts of it, at least.
Aside from new reproduction floor panels, every single patch on the car was bought used for cheap online or made from scratch by Ellie out of sheet steel. She went so far as to buy used utility cabinets to strip them for their plentiful 18-gauge steel to save money. Parts were sourced from a butchered drag car, and many others. In all, the Z you see was reborn from the pieces of eight cars whose parts were adapted and welded together into what you see here. Few parts of the original car survive due to the extensive nature of the rust damage. Ellie tells us that remaining parts include the roof, firewall, transmission tunnel, rear inner fender arches and floor, the b pillar, and front strut towers. Hence the license plate, Theseus Z.
Years of cutting and grinding wore on and on. Ellie had no prior welding or fabrication experience, so work progressed slowly as she learned her way. It was a significant journey, and sometimes you have to take a break from a large project like this. Some may have read a book, taken a beach vacation, or binged a show on Netflix. Ellie took three months off to drive a $500 hatchback across Mongolia with some friends she met online. Thrust into the deep end, it was here that she learned to row a manual transmission.
The potholed roads of Mongolia ate up multiple steel rims and tires. But through ingenuity and baling wire repairs, the crew kept the car going for some 20,000 km. According to Ellie, she was sitting somewhere in remote Mongolia thinking about the Z and how badly she wanted to finish it. She ordered a restoration how-to book on Amazon and had it shipped to her home so it would be waiting for her return.