Trucker who ran red light, killed motorcyclist deserves 15 months, judge told
Sentence expected next week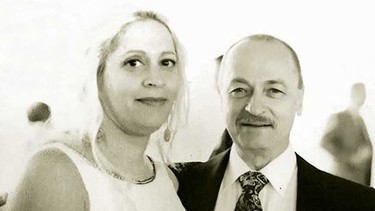 William Srenk is pictured with his wife, Melanie Roach Srenk Photo by Court exhibit /Toronto Sun
When Wolfgang Srenk headed out on his motorcycle that July morning in 2020, he told his wife he loved her and he'd see her that afternoon.
But he would never come home.
Travelling westbound on Bloomington was dump truck driver Azzam Al-Derzi, 48, who was busy talking on his hands-free phone. So busy that he didn't notice that the light at the Kennedy Rd. intersection had turned red 13.6 seconds earlier.
Senseless is the word. Production records for his cellphone showed Al-Derzi received a call from a friend at 3 p.m. that lasted 2½ minutes, and he then called a co-worker and spoke for just under two minutes.
In the weeks leading up to the crash, his dad was at his home building a deck in the summer heat. "A few times I went out to help him, and I couldn't keep up. I would just think to myself, 'How does he do it? This guy is indestructible.'"